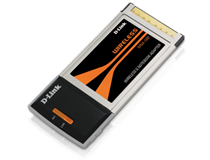 Connect to your wireless network from your laptop PC using the D-Link Wireless G laptop Adapter (WNA-1330) and browse the web, check e-mail, and chat with friends and family online. The Wireless G laptop Adapter offers simple network connectivity without the hassle of running a network cable. The Wireless G laptop Adapter is based on the 802.11g standard and is backward compatible with 802.11b, ensuring compatibility with a wide range of wireless routers and networks.
D-Link WNA-1330 Device Hardware Info:
Device Name: D-Link WNA-1330 laptop Adapter
Device ID: PCI\VEN_168C&DEV_001A&SUBSYS_3A1C1186
Download D-Link WNA-1330 Wireless G laptop Adapter Windows Driver, Utility:
Download
Version
Operating System(OS)
Date
1.30
Win2K, WinXP, Vista 32, Vista 64
12/19/2007
XP/2K/Vista 32/Vista 64

-WHQL'd, -Vista 64. added, -WPS support added.